Product Information
Brand: Copag
Price:

 

Chat Now

Marked Type: Barcode Ink
Material: Plastic, Paper
Index: Jumbo Index, Standard Index
Application: Texas Hold'em, Omaha, Blackjack
Share
View full details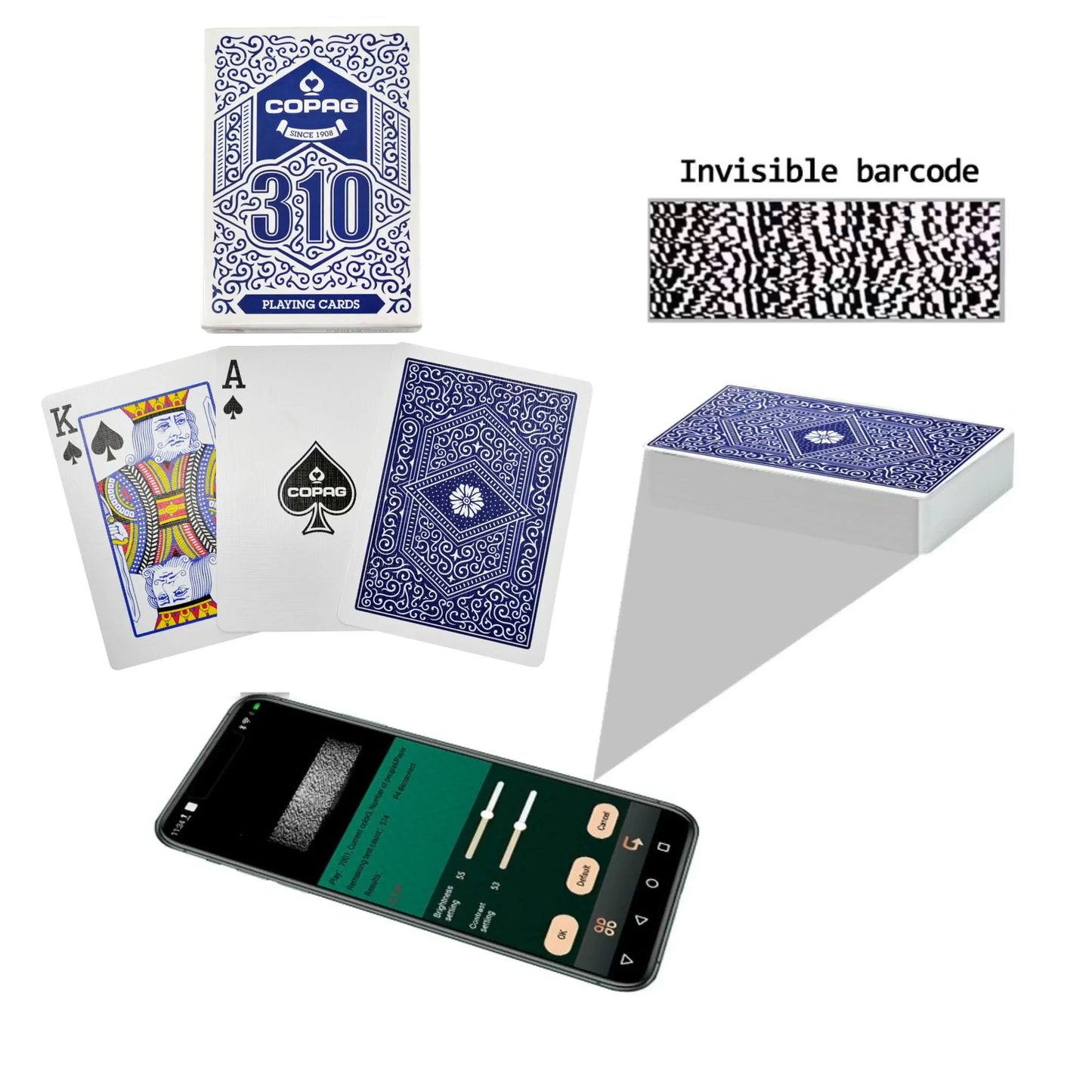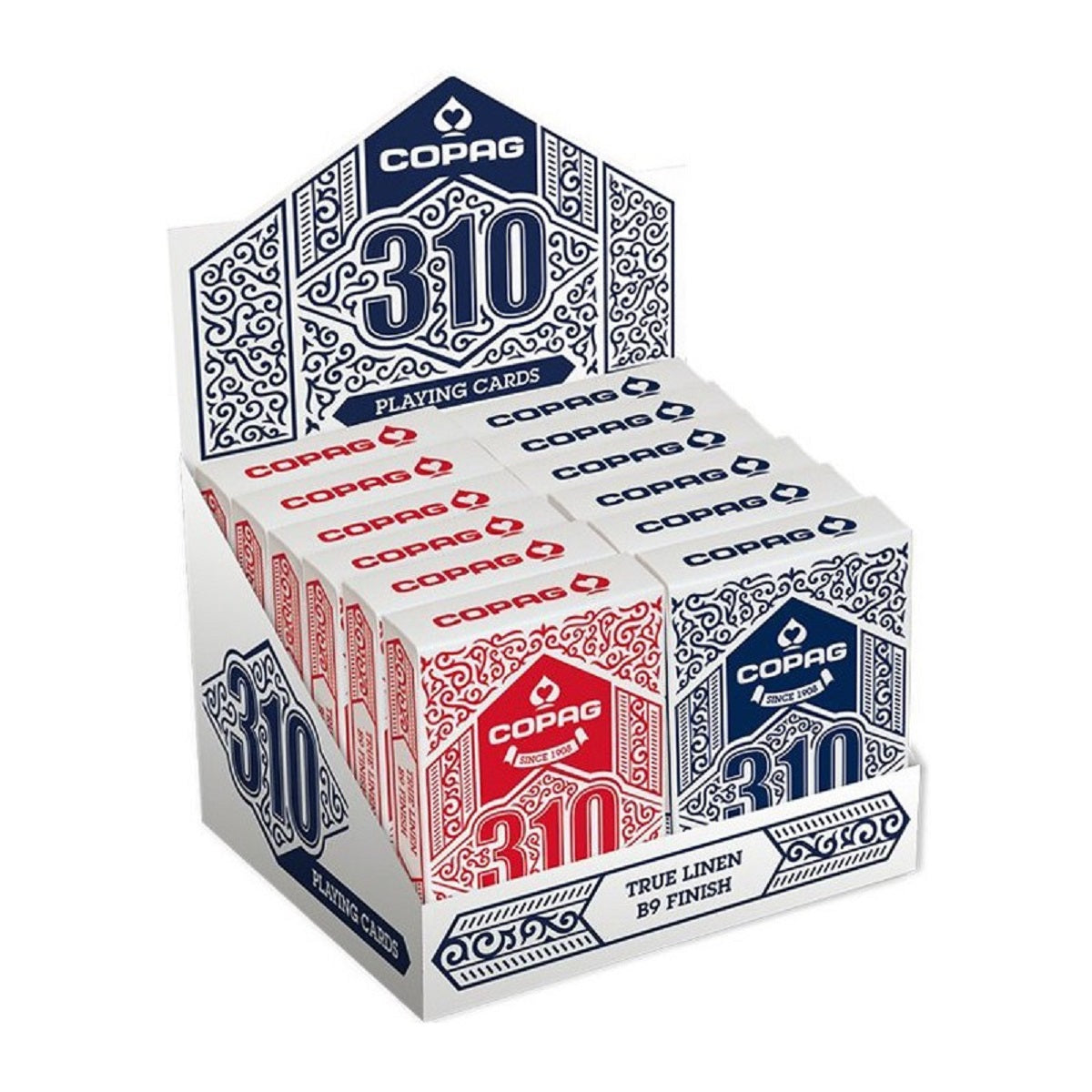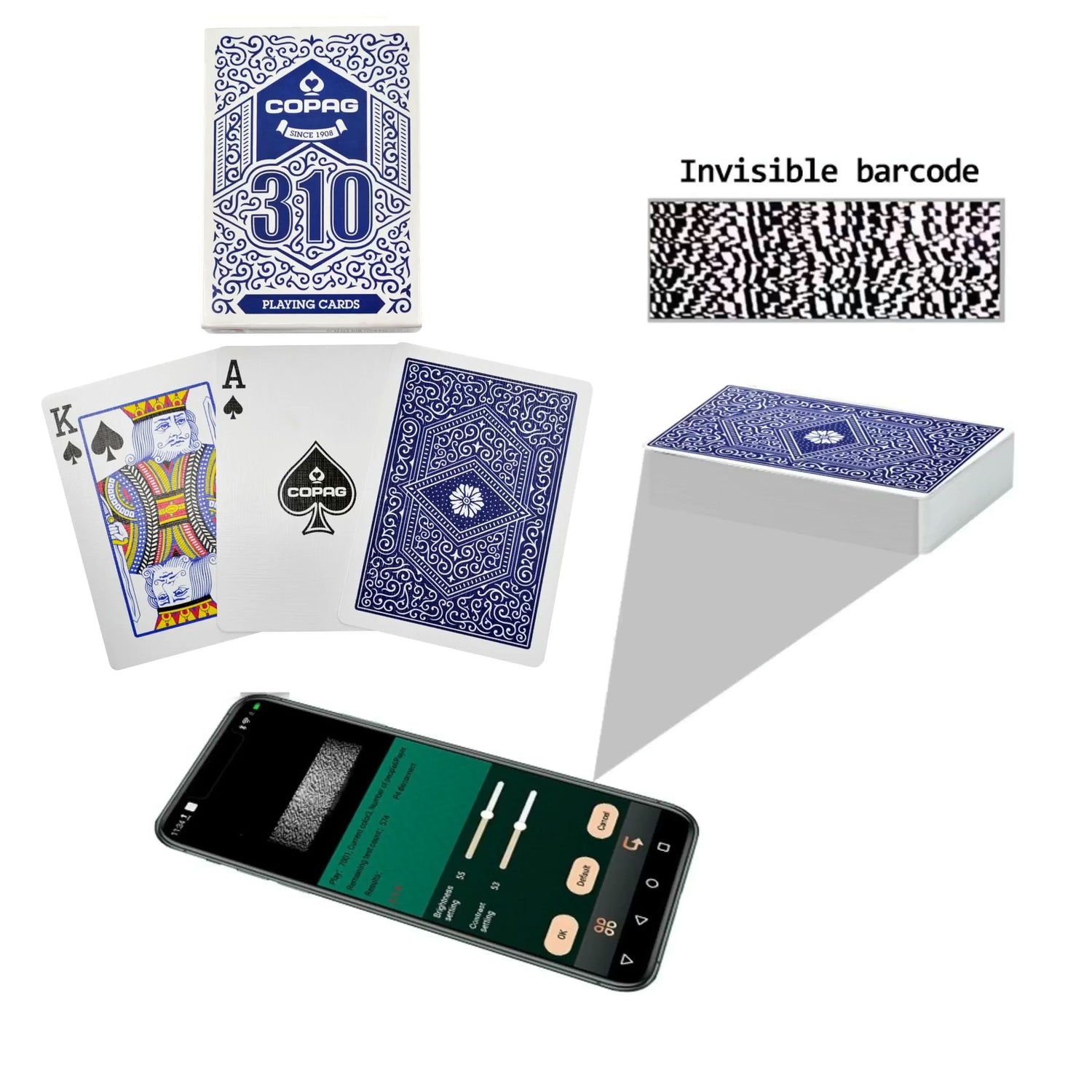 In the world of poker, a game where skill, strategy, and luck converge, players are constantly seeking ways to gain an edge over their opponents. One such advancement that has taken the poker world by storm is the Copag 310 With barcode poker cheat card, a product that combines the rich history and quality of Copag playing cards with cutting edge technology to revolutionize the way poker is played and analyzed.
The Legacy of Copag:
Copag, a brand with a storied history dating back to 1908, is synonymous with top tier playing cards. Renowned for their durability, precision, and design, Copag cards have earned the trust of poker players, casinos, and international poker competitions. The Copag 310 series, in particular, has set the standard for quality and craftsmanship, making it the preferred choice for professional players and enthusiasts alike.
Unparalleled Quality:
The Copag 310 cheat card poker maintains Copag's reputation for excellence in card manufacturing. These marked poker cards are meticulously crafted using advanced printing technology and high quality barcode ink processing. This combination ensures that the markings on the cards are not only clear but also highly resistant to fading, ensuring a long lasting advantage for the user.
Barcode Technology:
The centerpiece of the Copag 310 barcode marked cards is the incorporation of cutting edge barcode technology. Each card is marked with a unique barcode, invisible to the naked eye but easily readable by poker analyser. This revolutionary system enables players to gain real time insights into the game, allowing for a more strategic and calculated approach to poker.
Instant Game Analysis:
When used in conjunction with a poker analyzer device, the Copag 310 poker cheat card provides invaluable information about the game. The poker cards analyzer swiftly deciphers the barcodes, calculating crucial details such as the winner of each round, odds, and other essential game statistics. With this powerful poker machine cheating devices at your disposal, you can make informed decisions that may change the course of the game.
Bluetooth Connectivity:
One of the remarkable features of this product is the ability to transfer the analyzed data to players via Bluetooth headsets and other compatible devices. This means that in just a matter of seconds, you'll have access to critical information that can help you make strategic moves, ultimately increasing your chances of success at the poker table.
Conclusion:
The Copag 310 cheating poker cards represents a remarkable fusion of Copag's tradition of quality and innovation in poker technology. Whether you're a seasoned pro or an enthusiastic beginner, this product offers a way to gain a competitive edge in the world of poker. Experience the future of poker with the Copag 310 poker cheat card, where quality, innovation, and strategic advantage converge to redefine the game.